Thank you for visiting our learning page. This page displays a series of posts relating to the beach, ocean and areas surrounding our home on the Central Oregon Coast.
Why is the beach behind Admiral's Beach Resort always changing throughout the seasons? Beaches and dunes are in constant motion, continually changing shape and shifting position in response to winds, waves, tides, relative sea level, and human activities. The most significant changes occur seasonally and following storms. During summer, beaches are generally higher and sandier than they are in winter. During the winter, the 'missing' sand moves from the beach to nearshore areas to form sandbars. This happens as a result of changing wave shape due to more intense storm activity. During spring and early summer, or following a storm, the sand in the nearshore region moves back toward — and eventually attaches to — the beach. Once on the beach, the finer sand grains are moved by wind action to form higher, wider sand dunes. These seasonal and storm-related interactions and changes in the form, volume, and position of beaches, dunes, and nearshore areas produce what is known as 'dynamic equilibrium' (Figure A, below).
Beach and dune profiling is one way to obtain information about seasonal and storm-induced beach and dune shapes. Comparing season-to-season profiles and profiles taken before and after a significant storm clearly illustrates the important changes taking place along the shoreline and how quickly coastal landforms change.
How many feet can the beach rise or fall with seasonal changes? It appears to change about 8 to 12 feet behind our home throughout the seasons. The winter stripping of the sand can reveal the ocean floor with fossils and other discoveries that would otherwise never be visible. Click here to visit our photo gallery of these formations located about a 5 minute walk down the beach from our home.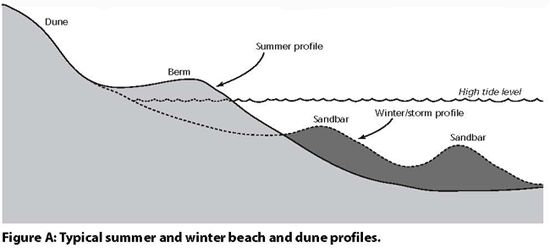 Graphic and some content courtesy of WHOI Sea Grant Program, 2000, Marine Extension Bulletin, "Beach and Dune Profiles: An Educational Tool for Observing and Comparing Dynamic Coastal Environments," by Jim O'Connell.
&nbsp